Performance Hack #001 : Drawings : Link Custom Property Watermark
Overall Concept
Automation of your SOLIDWORKS drawings is one of the biggest time savers in the software. Manually entering values for model properties, such as Thickness, Material or State, is not only time consuming but prone to human error. SOLIDWORKS allows to you to link drawing notes directly from the model/drawing custom properties. Here in this tutorial, we will be adding a new custom property (at the drawing level), then linking an Annotation Note (which we will use as a Watermark) to this Custom Property. Then as a final step, we will review steps on how to Save the Sheet Format, along with the Drawing Template so that future drawings will already contain this nice little Watermark set-up.

Step-1 Open an Existing Drawing Template.
In the part document add properties by selecting File > Properties.
And click on the 'Custom' tab.
From here, use the drop-down list and/or Type the 'Review' property.
Next drop down, in the 'Value / Text Expression' field Type "Draft".
Step-2 'Link to Property'
Edit the sheet format 'Edit > Sheet format'.
Add a new note where you want the Draft to display 'Insert > Annotations > Note'
In the Note property manager on the left-hand side of the screen, click the icon that shows the property symbol with a chain link 'Link to Property'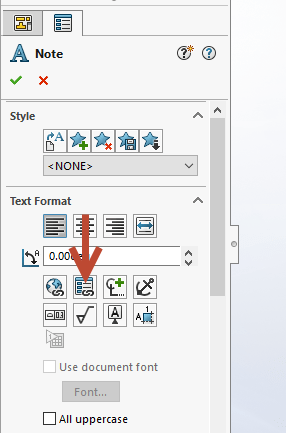 In the Link to Property dialog, change the option to current Document so that it will look at the drawing template properties. Use the drop down 'Property name' to select the 'Review' property that we added to the Drawing template level.
Change color to Gray and Size and rotation angle for the note.
You can change angle from here-

Right click on note and select Display Note Behind sheet.
If you would like to see WaterMark behind your design, please make sure "Behind Sheet" is enabled.

Exit from Sheet Format.
Step-3 Save Sheet Format, and Drawing Template.
Confirm all the properties have been linked, and the sheet format is good.
Save the Sheet Format file by going to File > Save Sheet format. This will save a file of ".slddrt" Type. It's recommended to save this in a custom location that is easy to find and back-up. This path can be specified under Tools > Options > System Options tab > File Locations > "Sheet Formats" (from the drop-down). Do not re-save over an existing sheet format, it is recommended protocol to always save new sheet formats, with a new name.

Return to the sheet Properties (right-click on drawing > Properties), and confirm that the correct name appears for the Sheet Format. Alternatively, re-select the .slddrt file that you just saved.
Then select File > Save As and choose Drawing Templates as the file type.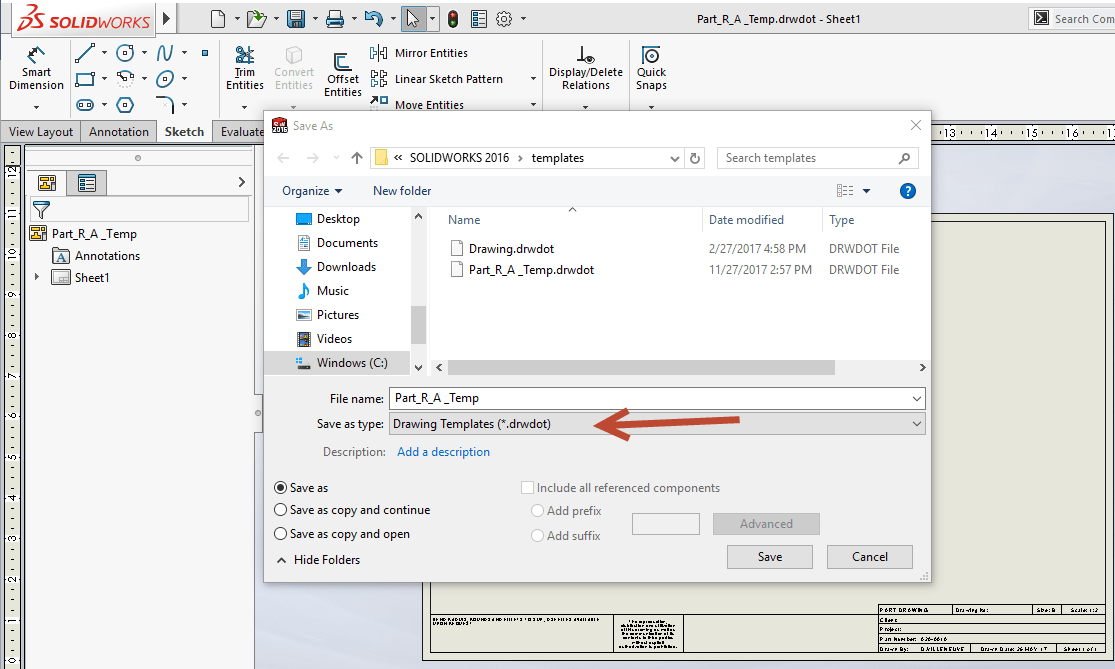 By default, it saved at C:\ProgramData\SOLIDWORKS\SOLIDWORKS 2016\templates location.
4. Test: Open Drawing with proper template
File > New
Now when you create new drawing which contain the custom properties [with values] into the drawing the watermark automatically and will be linked.
---
NEED CAD SUPPORT?
BOOK CALL WITH DEZ TODAY!
---
https://www.cadguru.ca/wp-content/uploads/2021/04/performance-hack-001-drawings-link-custom-property-watermark.jpg
312
820
Desiree Villeneuve, P. Eng, CSWE
http://www.cadguru.ca/wp-content/uploads/2017/05/CADGuru_Logo.png
Desiree Villeneuve, P. Eng, CSWE
2021-04-26 10:34:23
2022-05-23 04:43:17
Performance Hack #001 : Drawings : Link Custom Property Watermark